| Friday, June 29, 2018 | 13:05 GMT
'You stopped Christiano Ronaldo, You can stop your government!' PM Netanyahu encourages Iranian opposition after world cup euphoria
Israel Prime Minister Benjamin Netanyahu
Showcasing his ball-dribbling skills, Benjamin Netanyahu engaged in some footsy lobbying with Iranians, insisting that, if their national team could stop Cristiano Ronaldo, then the opposition can surely take out the government.
Playing on the emotions of millions of Iranians, who were thrilled to see their team achieve an "impossible" World Cup 1-1 draw with Portugal, the Israeli PM decided to demonstrate he too can play ball, while conveying his love and care for the Iranian people.
Netanyahu appealed to the Iranian opposition to seek inspiration in their squad's performance against superstar Cristiano Ronaldo and his boys, and to find the "courage" to stand up against their government.
"To the Iranian people I say: You showed courage on the playing field, and today you showed the same courage in the streets of Iran," Benjamin Netanyahu said in the video, titled 'Could you stop Ronaldo from scoring a goal?!'
The euphoria felt by the fans at the FIFA World Cup in Russia, the PM hinted, can only be exceeded by the feeling of total freedom when the government of Israel's arch-rival, which is, of course, the root of all Iranians' troubles, is toppled.
Read more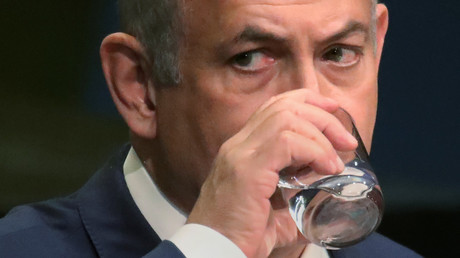 "Iran has many problems — air pollution, water scarcity, billions wasted on terror," he pointed out. "Can you imagine what would happen if the Iranian government, instead of wasting your money in Syria, in Yemen, and in unnecessary wars in the Middle East, would start investing it in solving these problems in Iran?"
Stressing his desire to help Iranian people help themselves, the Israeli PM painted a bright future, in which "Iran's soccer team goes head-to-head against Israel in a free Tehran. On that day, we'll all be winners."
Attempts to win the hearts of the English-speaking Iranian social media users have become Netanyahu's signature tactics over years of meddling in Iranian affairs. It's not the first time Netanyahu has used sports events to encourage the Iranian opposition to rise up against Supreme Leader Ali Khamenei. Tehran has repeatedly accused Washington and Tel Aviv of providing support for sporadic protests aimed at overthrowing the government.
If you like this story, share it with a friend!