| Published on Monday, July 16, 2018 | 14:30 CET
Putin and Trump close with a handshake that lasted about three seconds. Both men looked tense, they didn't smile much.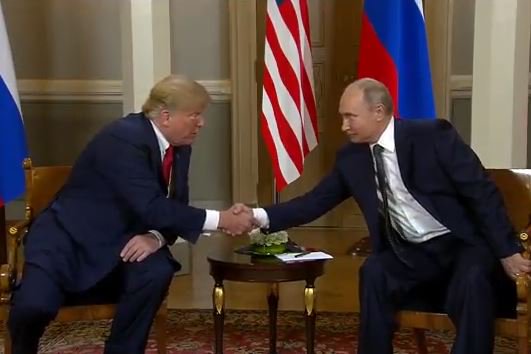 Updated
Putin and Trump meet
Trump and Putin are posing for the cameras at the Presidential Palace in Helsinki.
Putin says it is a pleasure to meet Trump. Trump congratulates Putin on the World Cup and on Russia's performance in the tournament. "I watched quite a bit of it ... it was beautifully done," Trump says.
He says we have a lot of good things to talk about, from trade to China and "our mutual friend Presidential Xi."
We have great opportunities together, we have not been getting along for years, Trump adds. Getting along is a good thing, Trump says. The world wants to see us getting along, he adds. We have 90% of the world's nuclear weapons and that is not a good thing, Trump says.
AP sets out what is due to happen next:
President Donald Trump has arrived at Finland's Presidential Palace for a summit with Russian President

Vladimir Putin

.

Putin arrived minutes earlier at the palace in Helsinki for the summit, which consists of a one-on-one meeting and a larger working lunch, and will conclude with a joint news conference.

Monday's meeting is being closely watched on both sides of the Atlantic, coming days after the US Justice Department indicted 12 Russian military intelligence officers for their role in hacking Democratic entities during the 2016 presidential campaign.

Trump says he hopes for better relations with the Russian leader. He faces bipartisan scepticism in Washington that his desire for warming ties is displacing concerns over Russia's annexation of Crimea and other destabilizing actions.
Trump arrived at the presidential palace at 1.57pm local time almost an hour after the summit was due to begin.
Both Trump and Putin are in the building.
TV footage shows images of Trump's motorcade, including the famous "beast" limo, is on the way to the presidential palace where the summit will take place.
The motorcade left at 1.37pm local time (11.37pm BST) according to White House pool reporter Annie Karni.
Trump is reported to be on his way to the presidential palace. Mark Knoller, from CBS, sets out what to expect next.
Andrew Roth has some theories of the power games currently being played.
Putin's motorcade has arrived late at the presidential palace in Helsinki for the summit. There's been no sign yet of Trump. He now appears to be trying to make Putin wait.
There's lots of this macho stuff: Putin's limo is slightly bigger than Trump's.
Expect more.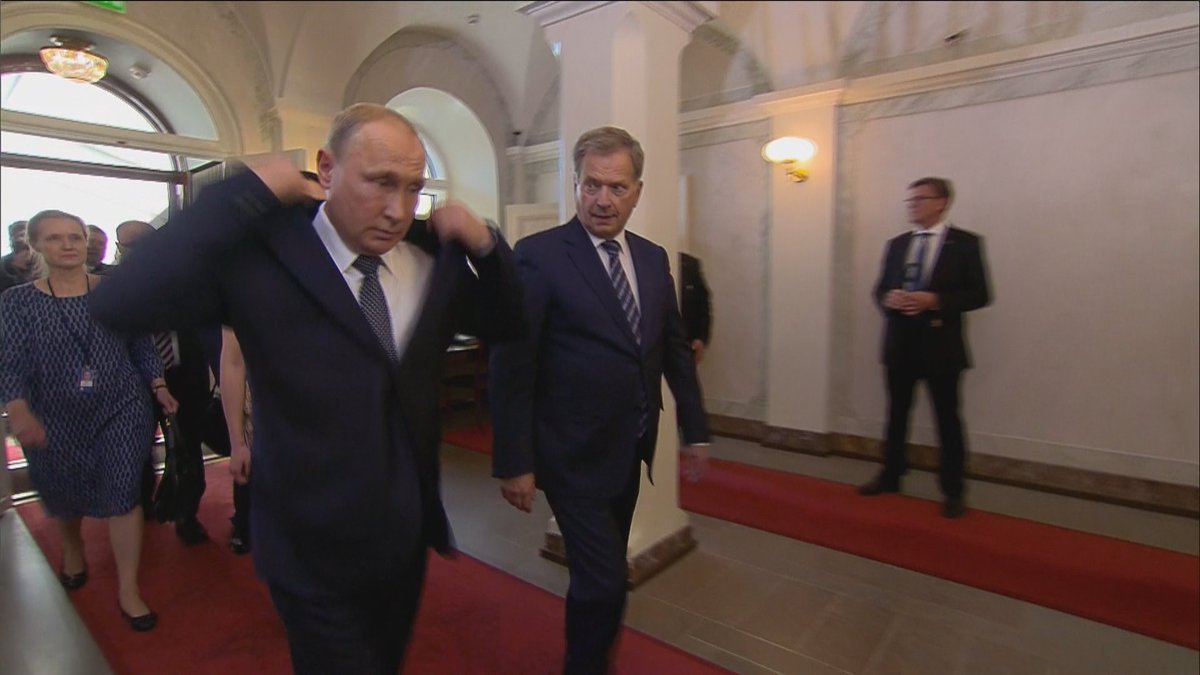 Updated
Trump blames Russia rift on US probe, Moscow agrees
Russia's foreign ministry says it agrees with Trump's dire assessment that US-Russia relations have never been worse.
As noted earlier
, Trump's view echoes the Kremlin claim that the US is to blame for the deterioration in the relationship.
Updated
White House pool reporter Annie Karni, confirms that Trump has delayed leaving the Hilton Helsinki Kalastajatorppa, en route to the Presidential Palace.
He was due to depart at 12.40 local time (10.40 BST).
The hold up appears to be on Putin's end as he has just this moment landed in Helsinki.
There has been no response from Trump's press secretary Sarah Sanders when she was asked about the delay.
Putin briskly stepped off his plane, before being greeted on the tarmac. He took of his jacket and waved for the cameras. And then got into his huge new limo.
The Washington Post's Philip Rucker reminds us that the summit was due to start at 1pm local time (11am BST).