| Tuesday, 09 Jan. 2018 | 12:35 GMT
BRICS countries considering own cryptocurrency in a bid to boycott US Dollar
The BRICS Finance Committee is discussing a joint virtual currency for the five-nation bloc of developing economies, according to the Russian Direct Investment Fund (RDIF) chief Kirill Dmitriev.
Read more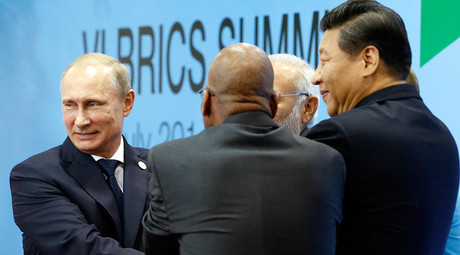 During the BRICS Summit in Xiamen, Dmitriev told journalists that Brazil, Russia, India, China and South Africa could develop its own alternative to other payment tools.
"While there is a focus on settlements in national currencies, cryptocurrencies are also being discussed as one of the possible settlement mechanisms," Dmitriev explained.
He added that within BRICS cryptocurrencies could replace the US dollar and other currencies used in settlements among the member states.
The BRICS countries have considered switching to local currencies for mutual settlements with the Chinese yuan as the lead currency. The New Development Bank (NDB) is expected to be a substantial player in the process.
"The use of local currencies will help promote mutually beneficial economic cooperation, mitigate currency risks, increase trade, and facilitate companies in accessing the BRICS markets," said Russia's Vnesheconombank board member Nikolay Tsekhomsky.
Last week, five banks of the BRICS Interbank Cooperation Mechanism agreed to establish local currency credit lines.
The head of NDB Kundapur Vaman Kamath said the bank aims to lend around $4 billion next year and also plans to start lending to private sector projects.
At a meeting with BRICS corporate leaders, Kamath said he hoped they would be able to take loans in local currencies as part of the bank's initial wish to "break away from the tyranny of hard currencies."