| Sunday, June 04, 2017 | 16:03 CET
London attack: Theresa May says enough is enough after seven die
The prime minister has said "it is time to say enough is enough" as she condemned a terror attack on "innocent and unarmed civilians" which left seven people dead and 48 injured in London.
A white van hit pedestrians on London Bridge at about 22:00 BST on Saturday, then three men got out and stabbed people in nearby Borough Market.
The three attackers, who wore fake bomb vests, were shot dead by police.
Several arrests have been made after police raids in Barking, east London.
It is the third terror attack in the UK in three months, following the car and knife attack in Westminster in March, which left five people dead, and the Manchester bombing less than two weeks ago, in which 22 people were killed.
Eyewitnesses to the attack described seeing a white van travelling at high speed along London Bridge, hitting pedestrians, before crashing close to the Barrowboy and Banker pub.
BBC reporter Holly Jones, who was on the bridge, said it was "probably travelling at about 50 miles an hour" and hit "five or six people".
Three men then got out and began attacking people in the nearby market - an area known for its bars and restaurants, which were busy on a warm summer evening.
Terrified drinkers rushed away from the scene, some taking shelter in London Bridge Underground station.
'Rampage'
One witness, Gerard, told the BBC he saw a woman being stabbed "10 or 15 times" by men shouting "This is for Allah".
Another, Eric, told the BBC the men "ran towards the people that they nearly ran over".
"I thought, 'Oh maybe they're worried about them and trying to comfort them...'
"[Then] they literally just started kicking them, punching them, they took out knives... it was a rampage really."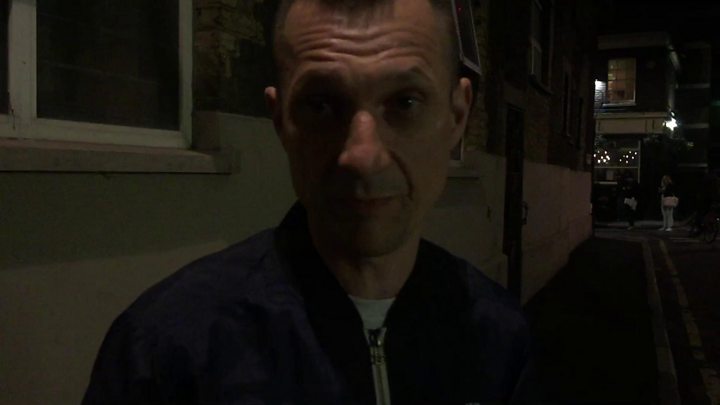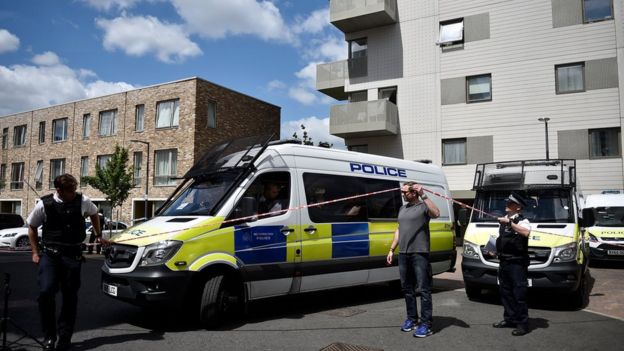 The three suspects were shot dead within eight minutes of the first 999 call being received.
Metropolitan Police Commissioner Cressida Dick praised the "extraordinary bravery" of her officers, on and off duty, who risked their lives by rushing to confront the attackers.
Among the main developments:
More than 80 medics were sent to the scene. The injured, some of them in critical condition, are being treated in five London hospitals
The Met Police has set up a casualty bureau on 0800 096 1233 and 020 7158 0197 for people concerned about friends or relatives
One of those hurt was a British Transport Police officer who was stabbed as he went to help. His injuries are serious, but not threatening.
Three other police officers were also injured
Two Australian citizens "have been directly impacted," says the country's Prime Minister Malcolm Turnbull
Four French citizens have been injured, one seriously, according to foreign minister Jean-Yves Le Drian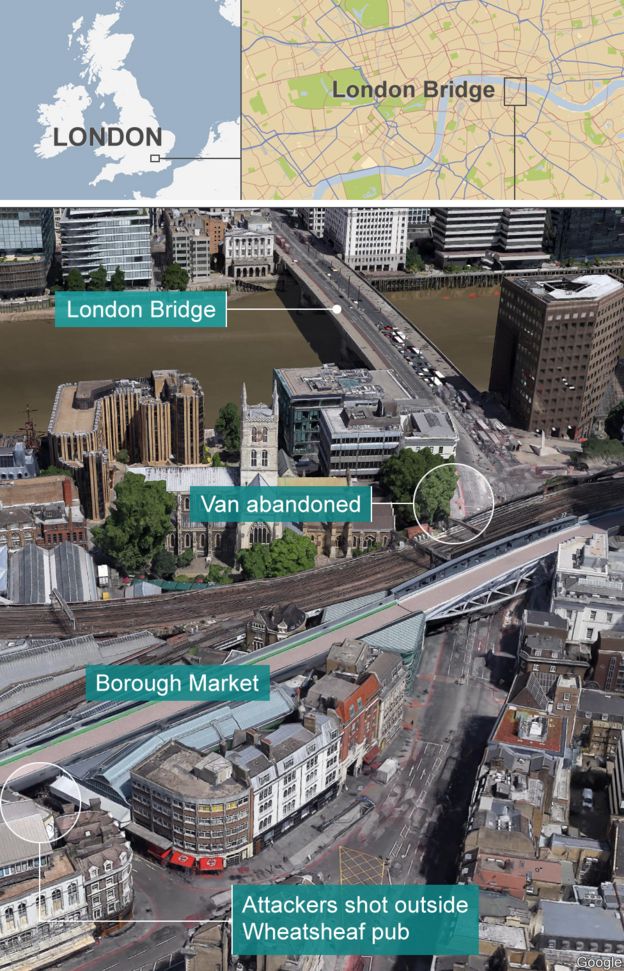 Another eyewitness, Steven Gibbs, who was drinking in St Christopher's Inn, just metres from the scene, told the BBC: "A black cab drove past and the driver shouted, 'Terrorist attack, run!'
"I stood up to take a look and then all of a sudden there were gunshots. Lots of people were screaming."
Steven was taken into the basement of the bar before the police came in and told everyone inside to run.
"I've never been so scared in my life," he said.
Hundreds of people were left stranded after being unable to return to their homes and hotels.
As with the Manchester attack, there were stories of Londoners coming to each other's aide, offering free taxi rides, free accommodation or just the opportunity to call friends and family.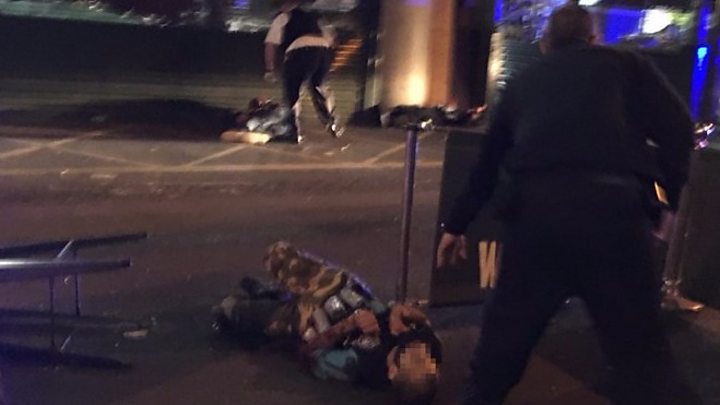 Speaking in Downing Street after a meeting of the government's emergency Cobra committee, the prime minister said the country "cannot and must not pretend that things can continue as they are".
"We believe we are experiencing a new trend in the threat we face as terrorism breeds terrorism," she said.
Mrs May said the UK's counter-terrorism strategy would be reviewed, as she promised to step up efforts to combat Islamist ideology and work with other countries to prevent the internet being a "safe space" for terrorists.
She said there was "too much tolerance of extremism in our country" and while it would involve "some difficult and embarrassing conversations", that must change.
The country's terror level remains at severe - meaning an attack is highly likely - but has not been raised to critical as it was after the Manchester Arena bombing.
Home Secretary Amber Rudd said: "We're staying at severe because we think they have got all the main perpetrators."
---
Analysis: BBC security correspondent, Frank Gardner
All through the night supporters of so-called Islamic State have been celebrating the London attack, even before any claim has been made by IS.
There was never much doubt either in their minds, or in those of British counter-terrorism officials, that this was a jihadist attack inspired by IS.
It follows a widely-circulated propaganda message put out by the group on social media urging its followers to attack civilians in the West using trucks, knives or guns.
The message makes reference to the current Islamic holy month of Ramadan. Last year attacks intensified during this month with deaths resulting in Istanbul, Dhaka and Baghdad.
Some analysts see this as a last desperate bid by IS to its supporters, following multiple setbacks in the Middle East where its self-proclaimed caliphate is shrinking fast.
However, the ideology of IS is likely to survive those defeats and will continue to fuel terrorist attacks around the world.
---
London Mayor Sadiq Khan said the capital remained the "safest global city" and would not be cowed by terrorism.
He added: "That this should happen in this month of Ramadan, when many Muslims were praying and fasting only goes to show that these people respect neither life nor faith."
The police are asking anyone with photographs or videos of the incident to
upload them here.
The area around the attack scene remains cordoned off on Sunday morning, with London Bridge closed. Neighbouring Southwark Bridge has now reopened.
Many other roads, including Borough High Street and Lower Thames Street, are also closed, and trains are not stopping at London Bridge rail station or Tube station.
---
Terrorism begins to feel like the new normal
Analysis by Dominic Casciani, home affairs correspondent
With three attacks in close proximity, terrorism against soft targets is beginning to feel, to some people, like the new normal.
The brutal reality is that this kind of threat is absolutely typical of what jihadists sought to achieve in all their attacks across Europe.
Since 2013 security services in the UK have foiled 18 plots. A large proportion of those have involved suspects who set out to commit acts of violence similar to the attack on Westminster Bridge and London Bridge.
Plans to use bombs, such as at Manchester Arena, are rarer because plotters need to have the technical skills for such an appalling attack - but attacking people with cars and knives is far easier and has long been encouraged by so-called Islamic State and other jihadists.
The aim of the three attackers last night is abundantly clear - not only did they want to kill, but they wanted to lose their own lives.
They would've known full well that attacking people in the street would draw armed police in their direction and the fake bomb belts they were wearing would, in their own warped minds, hasten their demise.
---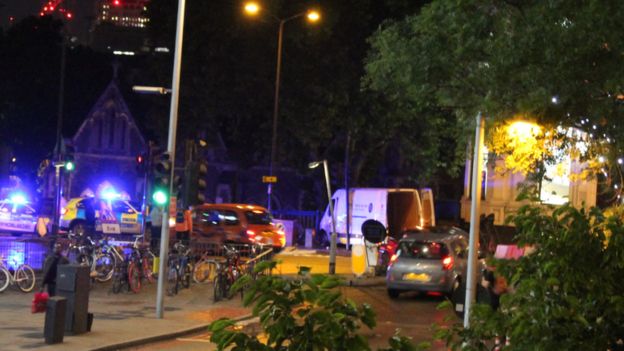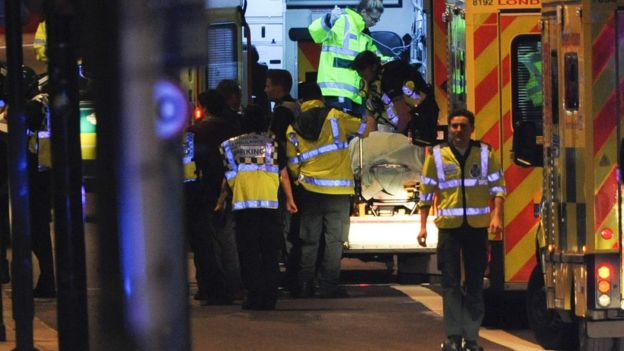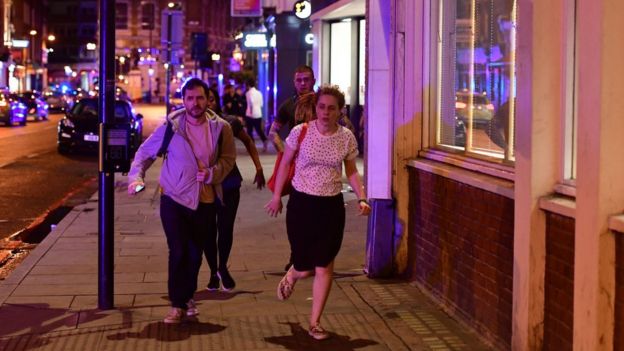 ---
Were you in the area? Have you seen what has happened? If you are willing to do so, share with us by emailing
haveyoursay@bbc.co.uk
.